Santa Rosa Trek Bike Shop Replaces Ironman Racer's Stolen Bike, Restores His Faith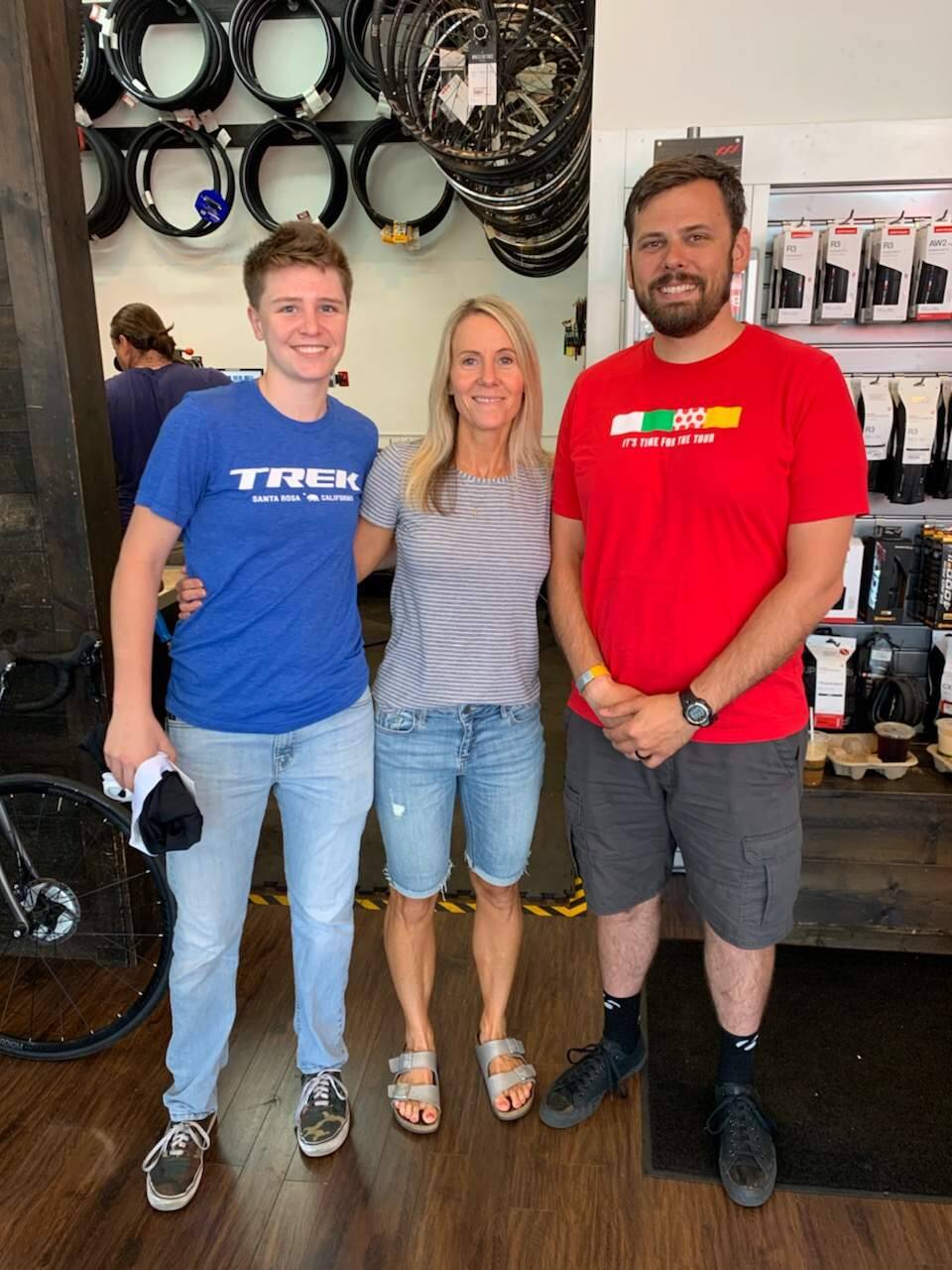 Marisa Denison hadn't set foot in Santa Rosa before arriving Thursday night for Ironman 70.3 Santa Rosa with husband David. It had been a long drive from Mapleton, Utah.
They parked in a garage near the Santa Rosa Plaza mall and drove downtown. As they toured Ironman Village in Old Courthouse Square and picked up pizza, they figured the three cable locks securing their two bikes – worth a combined $18,000 to buy – would be enough to keep them safe on the car.
Two hours later, back at the garage, their hearts stopped. The cables were cut, and the bikes – a high-end triathlon bike for her, a mountain bike for him – went missing – stolen. Marisa no longer had the wheels she needed for the 56-mile bike race of the course, and the race was just over a day away.
"We literally stood there and just cried," she said. "I've driven here, trained for hours and hours and hours for this race, and – it's over."
Devastated, they called the police and heard it would be difficult to get the bikes back. They planned to rent and showed up at the Trek Bicycle store on Mendocino Avenue around 10 a.m. Friday, hoping beyond hope that there was something that would work.
There was none, and Marisa said she started crying, explaining what had happened. Sales associate Brianna Peebles called a few of her supervisors, initially thinking Trek might let her borrow a floor model for Ironman. Then, store manager Matt Roark took it a step further by gifting Marisa an Émonda SLR 6 road bike—and not just for Saturday's race, but forever.
The Denisons were shocked: Not only would Marisa be able to compete, but she could do it on a high-end bike that she estimated was around $5,000 that she could take with her to Utah.
"My husband and I were sobbing in the store. We made a scene," Denison said. "I have never seen such generosity in my entire life."
The store employees sized her for the bike and installed it for her, and she walked away with a brand new vehicle after shelling out just over $100 for accessories.
Roark and Peebles were pragmatic about meeting a pair of discouraged strangers.
"I saw an opportunity to take care of someone," Roark said, adding that if such an experience was his first bite of Santa Rosa, "I would have a bad taste in my mouth."
Denison's entire pre-race experience with the bike was three laps around the Trek parking lot. She rushed out of Lake Sonoma early Saturday and jumped on the real deal en route to a 5 hour, 53 minute finish – good enough for 20th of 85 in her age group. Trek staff members cheered her on remotely via Ironman's online athlete tracking service.
"That's what bike shops are supposed to do," Peebles said. "We're just supposed to help people and keep people on bikes."
Denison stopped by Trek after the race to express her gratitude and take a photo with Peebles and Roark. The whole experience, from the flight to the thank you, was a life-changing experience, Denison said.
"There are assholes and dishonest thieves," she said. "But there are good people in this world."
You can reach editor Will Schmitt at 707-521-5207 or [email protected] On Twitter @wsreports.